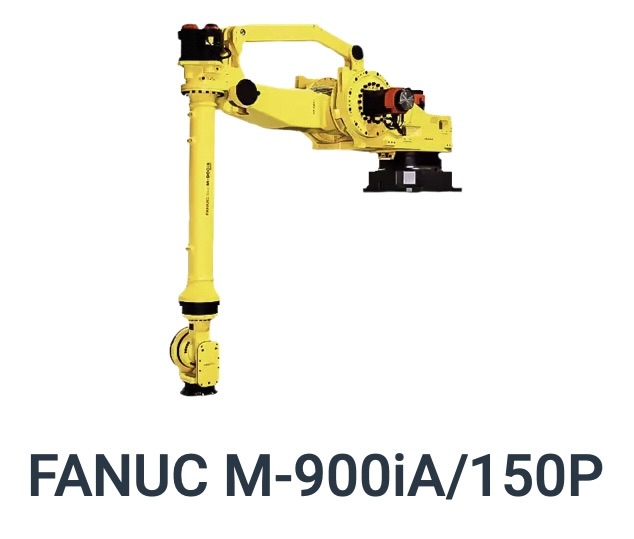 Payload 150kg
Reach 3507mm
The Fanuc M Series M-900iA/150P is a pedestal robot or can be gantry mounted it runs on the R30iB Controller Fanuc's newest generation of controllers.
Can often be found Press tending.
Robot Specifications:
Axes: 6
Payload: 200kg
H-Reach: 3507mm
Repeatability: ±0.3mm
Robot Mass: 2670kg
Structure: Articulated
Mounting: Floor, Inverted, Angle
Robot Motion Speed:
J1 110 °/s (1.92 rad/s)
J2 95 °/s (1.66 rad/s)
J3 95 °/s (1.66 rad/s)
J4 95 °/s (1.66 rad/s)
J5 120 °/s (1.68 rad/s)
J6 200 °/s (2.88 rad/s)
Robot Motion Range
J1 ±360°
J2 ±180°
J3 ±180°
J4 ±720°
J5 ±250°
J6 ±720°
Applications:
Material Handling Robots
Part Transfer Robots
Pick and Place Robots
Fanuc America Robotics are one of the premiere global robot brands. They build absolutely fantastic products and are by far the number one selling robot brand in the United States. If you allow us to re-register your software with Fanuc you will get 24-7 technical support from their expert staff. We will register the robot in your companies name, so when you reach out to Fanuc for support and provide them with your robots F number they will know who you are, and the robot your calling about.
CALL AN R.A.B. INDUSTRIES, INC REPRESENATIVE (586)752-0090 FOR ALL YOUR ROBOTICS AND AUTOMATION NEEDS.
RAB BUYS FANUC ROBOTS, ABB ROBOTS, MOTOMAN ROBOTS, KUKA ROBOTS, UNIVERSAL ROBOTS AND ROBOT PARTS,
ROBOT MRO, CONTROLLERS, CABLES, RVS, TEACH PENDANTS.