With its enormous 2.3 metric tons payload, the M-2000iA/2300 is the biggest lifter in the range. Ideally suited to heavyweight material handling applications that require an even stronger wrist, this machine will easily lift and position an entire car or load bulky set castings onto machine fixtures. Like other members of the Fanuc M-2000 family, the M2000iA/2300 is able to perform a wide range of material handling applications, including machine tending, part transfer, machine loading, etc. It can also be used in material removal applications. The robot also gives manufacturers more flexibility in their handling applications. Something that may have been impossible to lift by manual workers, can now be lifted and moved with swift and easy motion by one robot. This can not only improve cycle times for a company, but it can also reduce the possibility of something damaging the product. The steady motion of the robot, with its low vibrations, mean that the jerking movements of cranes or other lifters are things of the past. The low noise level and moderate power consumption (8kW) are also benefits that the M-2000iA/2300 bring to the table. The robot runs on the Fanuc R30iB robot controller.
Robot Specifications:
Axes: 6
Payload: 2300kg
H-Reach: 3734mm
Repeatability: ±0.3mm
Robot Mass: 11000kg
Structure: Articulated
Mounting: Floor
Robot Motion Speed:
J1 20 °/s (0.35 rad/s)
J2 14 °/s (0.24 rad/s)
J3 14 °/s (0.24 rad/s)
J4 18 °/s (0.31 rad/s)
J5 18 °/s (0.31 rad/s)
J6 40 °/s (0.7 rad/s)
Robot Motion Range:
J1 ±330°
J2 ±160°
J3 ±165°
J4 ±720°
J5 ±240°
J6 ±720°
Applications:
Material Handling Robots
Machine Tending Robots
Material Removal Robots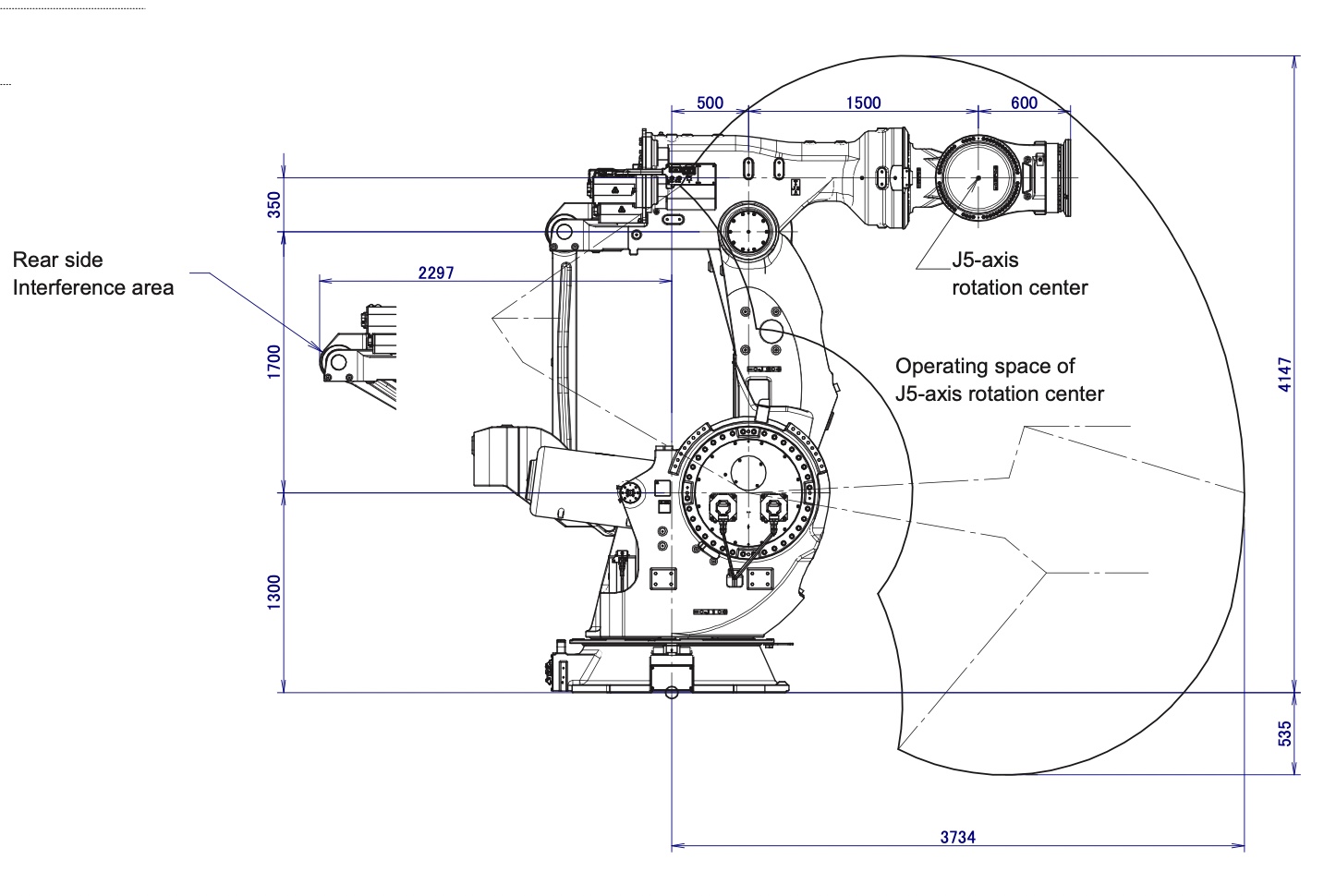 Fanuc America Robotics are one of the premiere global robot brands. They build absolutely fantastic products and are by far the number one selling robot brand in the United States. If you allow us to re-register your software with Fanuc you will get 24-7 technical support from their expert staff. We will register the robot in your companies name, so when you reach out to Fanuc for support and provide them with your robots F number they will know who you are, and the robot your calling about.
CALL AN R.A.B. INDUSTRIES, INC REPRESENATIVE (586)752-0090 FOR ALL YOUR ROBOTICS AND AUTOMATION NEEDS.
RAB BUYS FANUC ROBOTS, ABB ROBOTS, MOTOMAN ROBOTS, KUKA ROBOTS, UNIVERSAL ROBOTS AND ROBOT PARTS,
ROBOT MRO, CONTROLLERS, CABLES, RVS, TEACH PENDANTS.