The Fanuc R-2000iB/125L Robot Runs on the Fanuc R30iA or R30iB Controller Depending on the date of manufacture. Bringing you fast cycle times and high throughputs, the Fanuc R-2000iB/125L is a highly reliable, long reach robot which features a 125 kg payload and the largest work envelope in its series. This robot provides the best cost performance and ease of use for applications with integrated versatile process solutions. This makes the Fanuc R 2000iB/125 a great choice for material handling, plasma cutting, and machine loading.
Robot Specifications:
Axes: 6
Payload: 125kg
H-Reach: 3005mm
Repeatability: ±0.2mm
Robot Mass: 1190kg
Structure: Articulated
Mounting: Floor
Robot Motion Speed:
J1 110 °/s (1.92 rad/s)
J2 110 °/s (1.92 rad/s)
J3 110 °/s (1.92 rad/s)
J4 170 °/s (2.97 rad/s)
J5 170 °/s (2.97 rad/s)
J6 260 °/s (4.54 rad/s)
Robot Motion Range:
J1 ±180°
J2 +75° - 60°
J3 +230° - 132°
J4 ±360°
J5 ±125°
J6 ±360°
Applications:
Plasma Cutting Robots
Spot Welding Robots
Injection Molding Robots
Machine Loading Robots
Machine Tending Robots
Material Handling Robots
Cutting Robots
Fiberglass Cutting Robots
Foundry Robots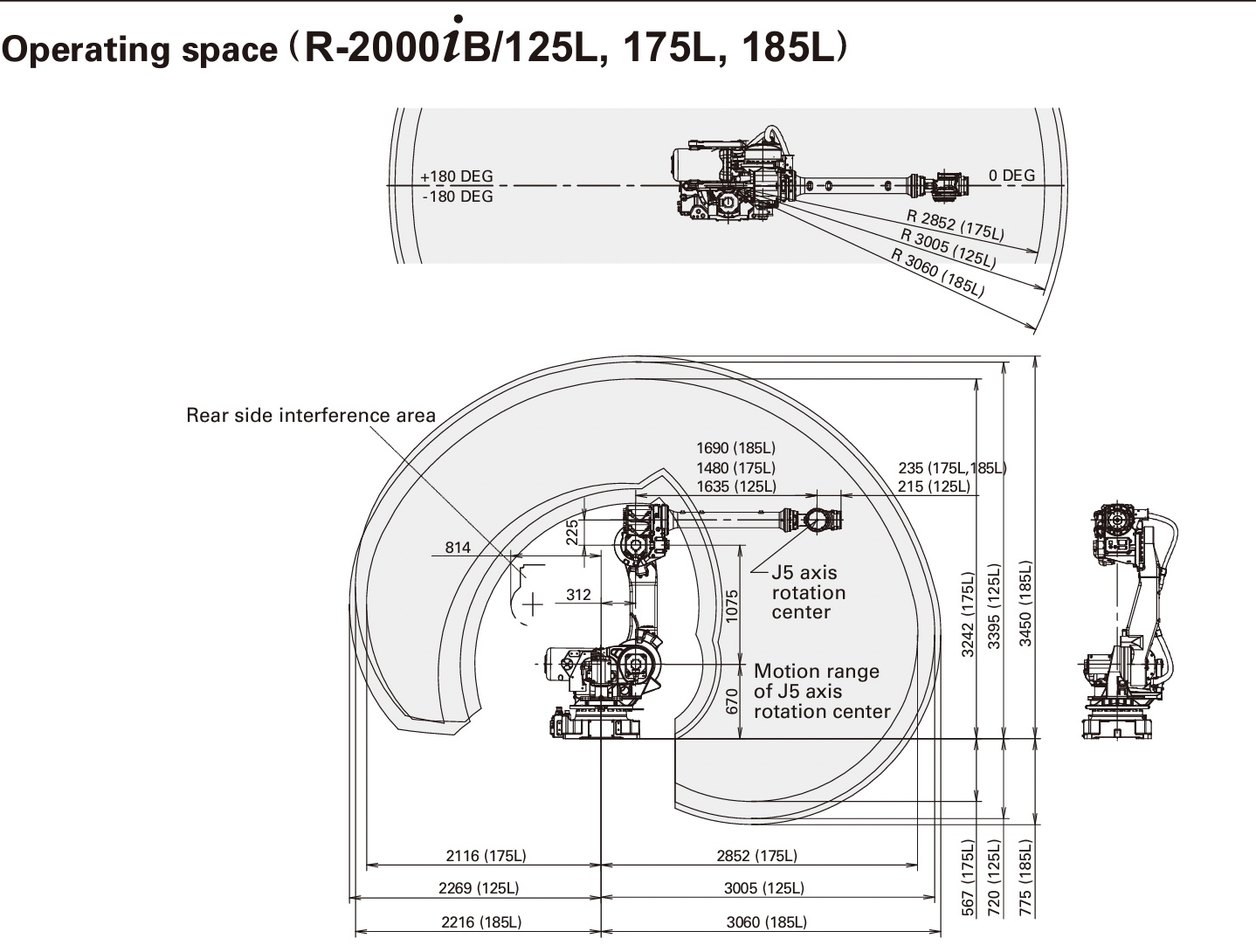 Fanuc America Robotics are one of the premiere global robot brands. They build absolutely fantastic products and are by far the number one selling robot brand in the United States. If you allow us to re-register your software with Fanuc you will get 24-7 technical support from their expert staff. We will register the robot in your companies name, so when you reach out to Fanuc for support and provide them with your robots F number they will know who you are, and the robot your calling about.
CALL AN R.A.B. INDUSTRIES, INC REPRESENATIVE (586)752-0090 FOR ALL YOUR ROBOTICS AND AUTOMATION NEEDS.
RAB BUYS FANUC ROBOTS, ABB ROBOTS, MOTOMAN ROBOTS, KUKA ROBOTS, UNIVERSAL ROBOTS AND ROBOT PARTS,
ROBOT MRO, CONTROLLERS, CABLES, RVS, TEACH PENDANTS.